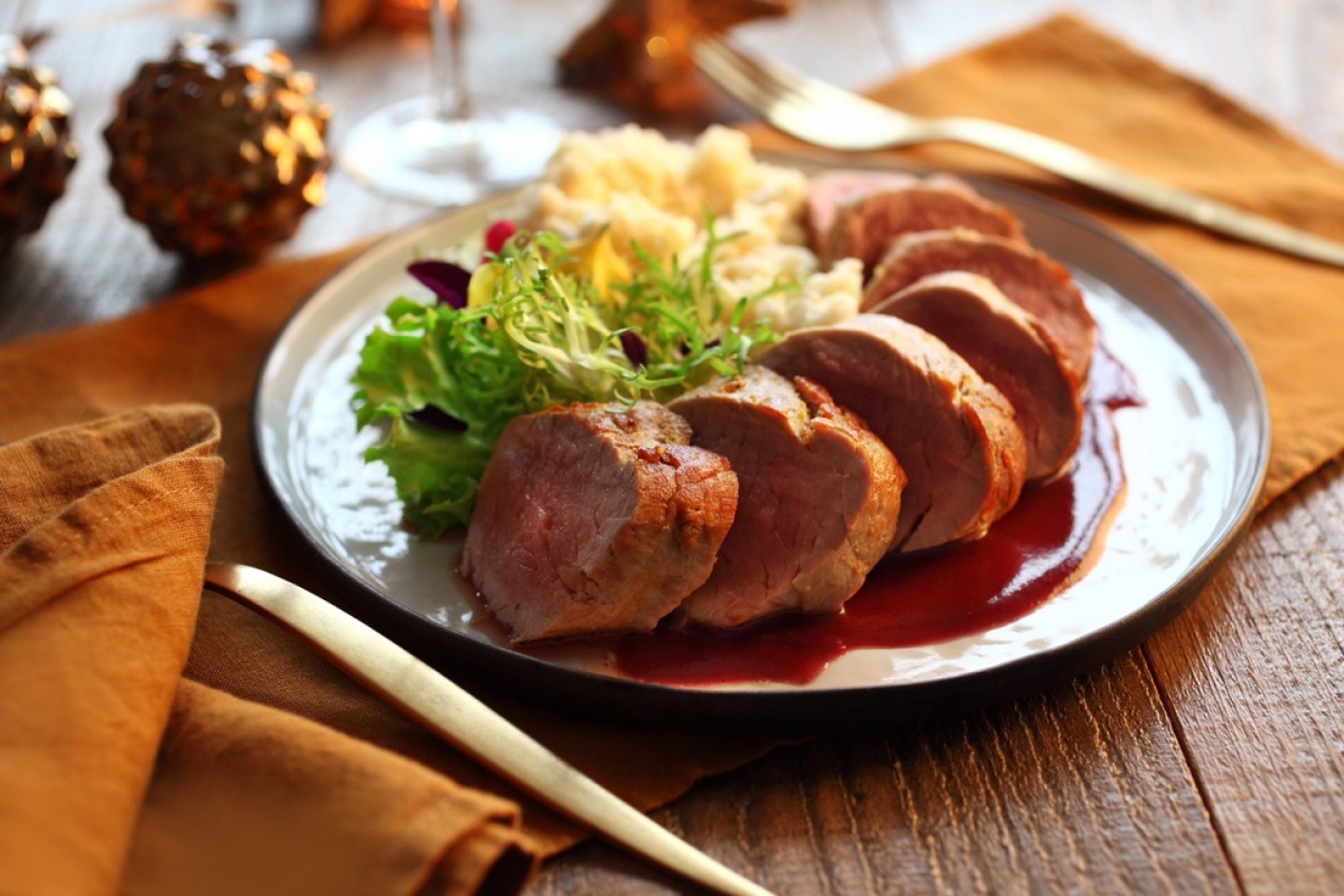 To make the sauce slightly thicker, dust the cubed butter with a dash of Gussnell before adding it to the pan.
600 g pork tenderloin (2 tenderloins)
pinch of pepper
2 tbsp olive oil
2 tbsp aronia jam
1 tbsp lemon juice
125 ml red wine
30 g butter
25 ml cream
1 tbsp Vegeta
CELERIAC PUREE:
600 g celeriac
30 g butter
70 ml sour cream
salt
1. Trim the pork tenderloin by removing any fat, rinse under running water and pat-dry.
2. Sprinkle with one spoonful of Vegeta and season with ground black pepper. Heat oil in a large skillet or braising pan and add the pork tenderloin.
3. Braise the pork evenly on all sides until nicely golden brown on the outside with a hint of pink on the inside. Remove from the skillet and keep warm.
4. Add aronia jam and lemon juice to the skillet and stir for about 1 minute over low heat.
5. Add the wine and cook until slightly reduced. Add the butter and stir. When the butter melts, add the cream, cook for another minute and remove from the heat. Add the pork tenderloin to the sauce and keep covered until serving time.
6. To make the purée, cook cleaned and peeled celeriac in boiling water, drain and mash with a potato masher. Add butter and cream and mix until blended.
7. Season with salt to taste.
Cut pork tenderloin and serve sliced with aronia sauce and celeriac purée.