Vegeta is a great tasting all purpose seasoning made from a special and unique blend of the finest vegetables, herbs, spices and select natural ingredients.
First created 60 years ago from the culinary tradition of Croatia's famous Mediterranean cuisine, Vegeta has become the gourmet cook's long time secret to making any food taste absolutely delicious.
It is simple to use. By just adding a little Vegeta to any chicken, meat, seafood, stew, pasta, risotto, soup or sauce will bring out a burst of the entrée's flavour, and add mouth watering taste complexity.  Add it to marinades in preparing meat, poultry, or seafood for roasting, grilling, or barbecuing. Top off salads and vegetables with a dash of Vegeta that will enhance the garden fresh taste and aroma. Join the growing ranks of families in over 60 countries that  have learned the mealtime magic of Vegeta.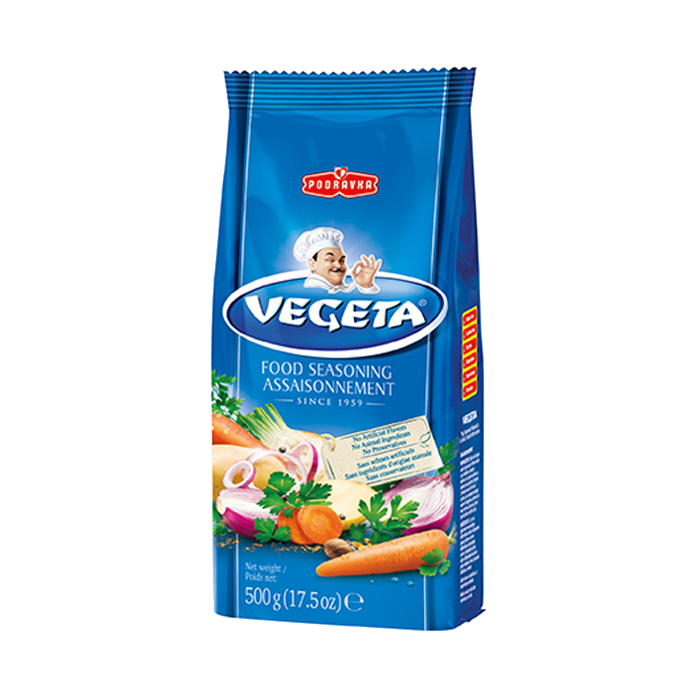 Podravka , originally known as the Jam Company , was  founded by the Wolf  family in Koprivnica, Croatia in 1934. Over time, the company expanded to include making Vegeta seasonings, soups, baby food, and vegetable products. The Company was located in the rich Croatian agricultural region of Podravina , where the Company sourced farm produce.  To reflect this rich regional farm heritage, the Company's name was aptly and proudly changed to Podravka.  The Company's  product portfolio continued to grow with condiments such as Ajvar Vegetable Spread, as well as sausages, canned meat and fish products, which all led to the Company becoming one of the largest food companies in South East Europe.
Podravka grows many vegetables for their products, but also carefully sources the very best ingredients to maintain the best quality for all of the company's products. The peppers used for making Ajvar are processed within 3 hours upon their arrival at the factory so as to capture all the nutrients and to deliver the very best taste. Podravka trully believes in the importance of sustainability and "farm to fork tracking." Consumers can be assured that everything matters very much to Podravka all the way from the field to the table.